news
21-08-2008
Brand New Website
Over the years Pure Energy have provided us with an excellent service, that's why we decided to go straight back to them for a new look to our current website. They've done an excellent job don't you think?
Get in touch and please let us know what you think of our new website, we would be glad to know what you like or dislike.
If you find anything wrong with the website or notice anything peculiar that you think might not be correct then please do let us know. Thanks.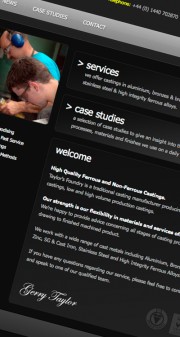 other news
Gerry Taylor of Taylor's Foundry has been hard at work help local charity, The Centre for Computing History.
Taylormade Castings have recently bought Gregory's of Cannock - a company specialising in the production of Street Furniture and Outdoor Furniture.
Gerry Taylor has entered the next round of the UK Caterham R400 championship, his first races are on the 23rd, 24th and 25th of September 2005 at brands hatch.