news
11-06-2005
Taylor's Produce Chamber Award
Taylor's Foundry have been commisioned to produce the Haverhill Chamber of Commerce Business Award.
We are proud members of the Chamber of Commerce and were delighted to be asked to produce this prestigious award.
The award will be the product of a unique partnership between two Haverhill companies, one young, using new technology, and the other long established in the area, casting metal through traditional methods. The exceptionally talented and innovative Pure Energy Multimedia worked closely with the highly regarded and internationally acclaimed Taylor's Foundry to create a design tour de force.
The image upon which the award will be based was originally fashioned by Robert Connor, a Sixth Form student from Haverhill's Castle Manor Upper School. Robert won a competition for local schools to design an appropriate logo for the new Chamber, following its launch in February 2004.
For more information click here.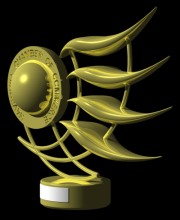 other news
Gerry Taylor of Taylor's Foundry has been hard at work help local charity, The Centre for Computing History.
Taylormade Castings have recently bought Gregory's of Cannock - a company specialising in the production of Street Furniture and Outdoor Furniture.
Gerry Taylor has entered the next round of the UK Caterham R400 championship, his first races are on the 23rd, 24th and 25th of September 2005 at brands hatch.